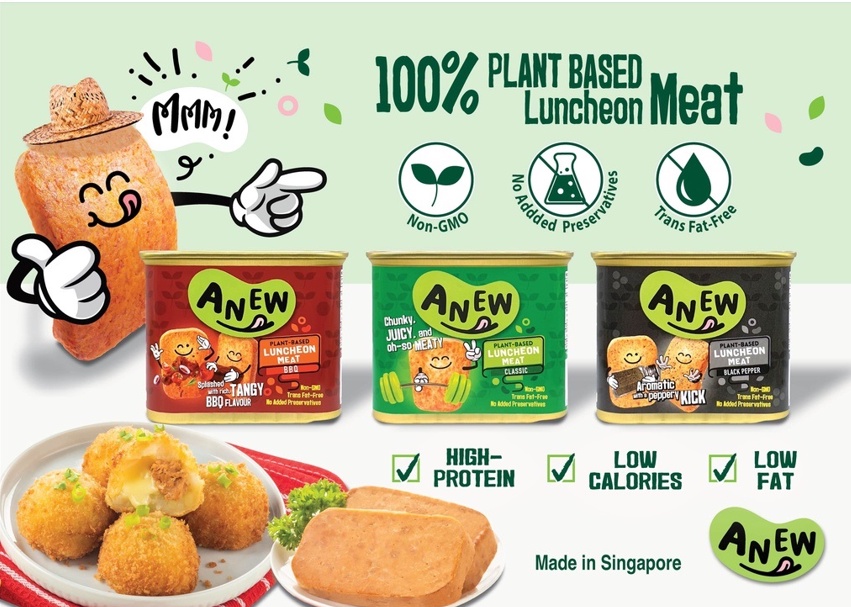 Anew is for the aspirational; for those who wants to live better and make better food choices. We take pride in making not just good, but BETTER food for everyone to enjoy.
100% Plant-based, High Protein & Ready to Eat.
Non-GMO
Trans-Fat-Free
No Added Preservatives
Low Calorie
Low Fat
Good for environment
Made in Singapore
Enjoy yummy food guilt-free! Eat it the way you always love – in sandwiches, fried rice, or luncheon fries. We put the "Ta-daa" back into your taste-buds.
Ingredients:
Water, Wheat (Protein, Flour), Canola Oil, Soy, Protein, Cellulose, Methyl Cellulose, Sodium Alginate, Vegetable Juice (Radish, Tomato), Spice, Yeast Extract, Konjac, Salt, Eucheuma Seaweed, Meat Flavour, Sugar, Vegetable Fibres, Natural Flavour, Natural Colour (Monascus), Natural Hickory Smoke Flavour
Allergen advice: Contains Gluten, Soy.
Storage: Keep in cool and dry place. Refrigerate any unused portion in an airtight container and consume within 3 days.
Ready to eat. You may choose to air-fry or pan-fry for a crispier finish.